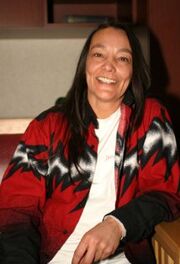 Tantoo Cardinal was born 20 July 1950 in Fort McMurray, Alberta, Canada as Rose Marie Cardinal. She's "métis." Métis is the French version of the Spanish "Mestizo" meaning she has both Native American and European ancestry, in her case, Cree and French. On Dr. Quinn, Medicine Woman she played Snow Bird.
Mother - Julia Cardinal
Husband #1 - Fred Martin (1968-1976) divorced
Husband #2 - John Lawlor (1988-2000) divorced
Daughter - Riel (w/ Lawlor)
Sons - Cheyenne (w/ Martin) & Clifford
Filmography (Notable)
Edit
For her complete filmography see her imdb page
Dances with Wolves (1990)
Black Robe (1991)
Legends of the Fall (1994)
Smoke Signals (1998)
Ad blocker interference detected!
Wikia is a free-to-use site that makes money from advertising. We have a modified experience for viewers using ad blockers

Wikia is not accessible if you've made further modifications. Remove the custom ad blocker rule(s) and the page will load as expected.