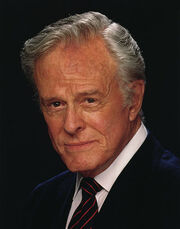 He was born August 16, 1930 as Robert Martin Culp and died March 24, 2010 of a heart attack. In the show he played Dr. Elias "Doc Eli" Jackson in the episode "The Great American Medicine Show".
Father - Crozie Culp, attorney
Mother - Bethel Collins
Wife #1 - Nancy Ashe (??-1967_
Wife #2 - France Nuyen, actress (1967-1969)
Wife #3 - Sheila Sulivan (1971-1976)
Wife #5 - Candace Faulkner (1991-2010)
Children - Joseph, Jason, Rachel, Joshua, & Samantha
source - www.tcm.com
Filmography (Notable)
Edit
For his whole filmography see his imdb page
I Spy (1965-1968)
Bob & Carol & Ted & Alice (1969)
The Greatest American Hero (1981-1983)
Ad blocker interference detected!
Wikia is a free-to-use site that makes money from advertising. We have a modified experience for viewers using ad blockers

Wikia is not accessible if you've made further modifications. Remove the custom ad blocker rule(s) and the page will load as expected.