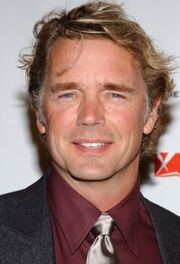 He was born 8 Apr 1960 as John Richard Schneider III. He played Mr. McCall in the Season 1 episode A Cowboy's Lullaby. He later went on to play Daniel Simon in Season 6.
Brother - Robert
Wife #1 - Tawny Elaine Godin, former Miss America (1983-1986)
Wife #2 - Elly Castle (1993-Present)
Daughters - Leah & Karis Schneider
Son - Chasen
Filmography (Notable)
Edit
For his complete fimography see his imdb page
The Dukes of Hazzard (1975-1985)
Snow Day (2000)
Lake Placid II (2007)
Ad blocker interference detected!
Wikia is a free-to-use site that makes money from advertising. We have a modified experience for viewers using ad blockers

Wikia is not accessible if you've made further modifications. Remove the custom ad blocker rule(s) and the page will load as expected.