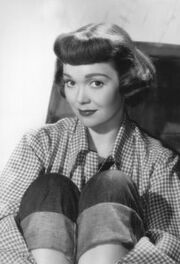 She was born 5 Jan 1917 as Sarah Jane Mayfield and died 10 Sep 2007. In 1932, she changed her name to Jane Durrell & she changed it again in 1936 to Jane Wyman. She played Elizabeth Quinn.
Mother - Gladys Hope Christian
Husband #1 - Ernest Eugene Wyman (1933-??)
Husband #2 - Myron Martin Futterman (1937-1938)
Husband #3 - Ronald Reagan, actor (1940-1949)
Daughter - Maureen & Christine Reagan
Son - Michael Reagan
Filmography (Notable)
Edit
For her complete filmography see her imdb page.
The Lost Weekend (1945)
Johnny Belinda (1948)
Stage Fright (1950)
Falcon Crest (1981)
Ad blocker interference detected!
Wikia is a free-to-use site that makes money from advertising. We have a modified experience for viewers using ad blockers

Wikia is not accessible if you've made further modifications. Remove the custom ad blocker rule(s) and the page will load as expected.