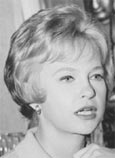 She was born 15 Aug 1926. She played Elizabeth Quinn.
Husband #1 - Stanley Prager, actor (1954-1972)
Husband #2 - Jack Tenner, actor (1981-2008)
Daughters - Carol, Anne, Sally, & Molly Prager
Filmography (Notable)
Edit
For her complete filmography see her imdb page
Midnight Cowboy (1969)
Another World (1970) (TV series)
As the World Turns (1977-1980)
All My Children (1981) (TV series)
Ad blocker interference detected!
Wikia is a free-to-use site that makes money from advertising. We have a modified experience for viewers using ad blockers

Wikia is not accessible if you've made further modifications. Remove the custom ad blocker rule(s) and the page will load as expected.