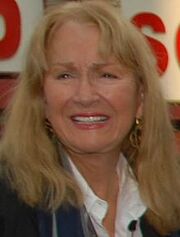 She was born 29 Nov 1932 as Rose Diane Ladnier. She played Charlotte Cooper, mother of Matthew, Colleen, & Brian Cooper& first wife of Ethan Cooper.
Father - Preston Paul Ladner, poulterer
Mother - Mary Bernadette Anderson, housewife & actress
Husband #1 - Bruce Dern (196-1969)
Husband #2 - Robert Charles Hunter
Daughters - Diane & Laura Dern
2nd cousin - Tennessee Williams, playwright
Filmography (Notable)
Edit
For her complete filmography see her imdb page
Chinatown (1974)
Christmas Vacation (1989)
Wild at Heart (1990)
Primary Colors (1998)
Ad blocker interference detected!
Wikia is a free-to-use site that makes money from advertising. We have a modified experience for viewers using ad blockers

Wikia is not accessible if you've made further modifications. Remove the custom ad blocker rule(s) and the page will load as expected.