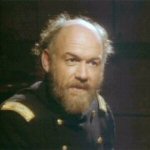 A Colonel in the US Army fighting Indians. Played by Adrian Sparks.
Vital Information
Edit
Hates the Indians.
In Epidemic we learn that he was reprimanded after the Sand Creek Massacre & replaced with General Custer
Pilot - He takes some land away from the Indians in a "peace treaty."
"I am fully satisfied that to kill the red rebel is the only way to have peace and quiet." (Pilot)
Ad blocker interference detected!
Wikia is a free-to-use site that makes money from advertising. We have a modified experience for viewers using ad blockers

Wikia is not accessible if you've made further modifications. Remove the custom ad blocker rule(s) and the page will load as expected.